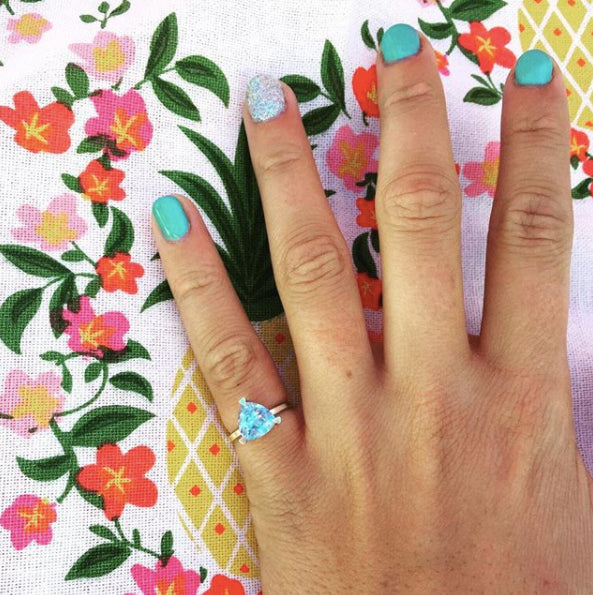 A the start of every month in 2018, we're releasing a new stone to expand our Self Love Pinky Ring collection. And to kick off March, we're proud to announce that you can now purchase an Aquamarine Self Love Pinky Ring in both our mini and original trillion styles. Every stone has unique, metaphysical properties, and we're excited to share the magnificence of aquamarine, the March birthstone. So if you're a Pisces or Aries that's born in March, this aquamarine ring is the perfect choice for channeling your inner mermaid (yes mermaid!).
Aquamarine is a stone of eternal youth and happiness that promotes truth, trustworthiness, and letting go. Not a March baby, but love the ocean? Aquamarine channels the soothing qualities of the ocean and mimics the calming and cleansing nature of the beautiful water. Ancient folklore marks it as the treasure of mermaids. Sailors even used the stone as a talisman as a symbol of fearlessness and protection. (Pro tip: If you're in the water often, we'd definitely recommend you choose a gold band.) The best part about our aquamarine love ring? It's lab-created, which means that it wasn't mined but still has all the physical and metaphysical properties of a natural stone. Conflict-free and environmentally friendly? This aquamarine trillion ring is a win win.
Getting married and looking for a something blue that represents loving yourself while also loving your significant other, here she is.
We're thrilled to add this blue beauty to our collection of Self Love Pinky Rings, but like all of our colored stones, they're only available in limited quantities. 
Limited Edition Aquamarine Self Love Pinky Ring - Starting at $209
Limited Edition Aquamarine Mini Self Love Pinky Ring - Starting at $189