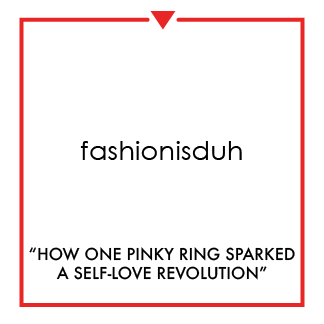 Sup Fabs?
Self-Love + Symbolic Stones. Fashionisduh strives to be more than just your average blog filled with beautiful pictures of stylish, fashionable finds that only the top .001% can afford. Sure, I love + appreciate those things, don't get me wrong, but what's infinitely more important is that Fashionisduh is a social community. A social community where each + every Fab feels supported in her quest to celebrate her own unique fabulosity.
That's the reason I'm so jazzed to have partnered with Fred and Far, a jewelry brand that is much more than pretty pinky rings, stunning sapphire wrap chokers, + other jaw-dropping jewels. I mean, sure, the symbolic sapphires + newly introduced ruby stones included in their collection are sensational, but the real sensation is the substance behind this not-so-basic brand.
Founded by two inspiring young women in early 2015, Melody + Samira, after realizing that as their commitment to others grew, the connection to themselves started to dissipate. Melody mentions that after stripping away the accomplishments, achievements, + labels, she was left to ask herself, "Am I happy?" A question I believe a lot of us women can relate to. I know I can. To reclaim her sense of self, Melody began to wear a ring on her pinky finger, not just any ring, but a ring with a symbolic stone resembling that of an engagement ring. Through this simple act, a revolution was born: self-love through the power of symbolism.
        "Self-love is powerful. Symbols are powerful. You are powerful. Choose yourself."
With a mission + movement inspiring enough to make you want to scream #GIRLPOWER from every major city's highest skyscraper; Fred and Far combines motivational truths with the beauty of symbolic stones in a way that I've never seen before. As the tribe of women behind them continues to grow, which I'm proud to say includes the Fashionisduh, this message serves as a daily reminder of how important it is to reclaim yourself, remember yourself, revive yourself, + of course, choose yourself.
So My Fab, remember that self-love is the best love. Go ahead and treat yourself to a special gift that is a stylish, daily reminder of just that. On that note, I'd like to share a message from Fred and Far's Mission Statement that resonated with me, "Shed the weight of uncertainty, of responsibility, of pain, of pressure. Commit to something better."