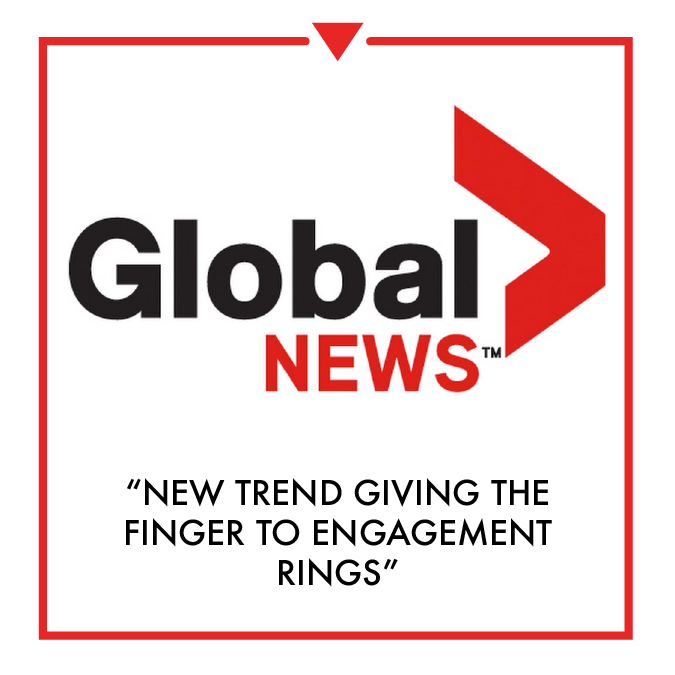 Why wait for someone to "put a ring on it" if you could do it yourself?
That's the idea behind the "self love" pinky ring that's popping up on social media threads as a testament of a woman's commitment to herself.
"An engagement ring is external love, whereas the pinky ring is entirely self-sufficient love," said 23-year-old Aaryn Doyle of Ontario.
She and her best friend Vita Chambers showed off their matching bling on Instagram last month.
Laura Chambers, who lives in Maine, recently bought one for her daughter's university graduation. She says she fell in love with the simple design as much as the message behind it.
"What better gift can one give to their daughter… a daily reminder to smile and put yourself first," she said. "The ring represented everything we'd spent the formative years quietly instilling in our daughter: to be strong, do what makes you happy, be you and follow your instinct."
All the women admit to having their own struggles with self-love at times. But the triangular trinket is supposed to serve as a daily reminder to love and honour oneself.
Melody Godfred came up with the idea for it after treating herself to a pinky ring, shortly after giving birth to her now-four-year-old twin girls.
"I… found myself drowning because I was never on my own priority list," the 34-year-old L.A. entrepreneur said, looking back at the difficult time of managing life with two newborns.
She eventually learned to let go and accept herself (along with all her shortcomings) — a tough feat after having grown up surrounded by "super women" who held themselves to an ideal of perfection, even if it was to their detriment.
Seeing the stone on her little finger every day and remembering what it's supposed to be convey, proved to be powerful for Godfred.
And when she launched her company Fred + Far with her friend Samina Far this past February, her hope was to help other women make that same mental shift.
"We've been taught that we all need a ring, and it needs to be big and …that if it's not big and we're not chosen then we're not of value.
"We're kind of taking that narrative and turning it over, saying, 'you know what, I'm going to use this as a tool for empowering myself."
The Fred + Far rings are all 1.5-carat conflict-free white sapphires that either come in a sterling silver setting (for USD$150) or solid gold for roughly double the price.
Each purchase comes with a "pinky promise pledge card to commemorate the commitment" a woman is making to herself.
Skeptics might be asking themselves: "Isn't this just another ploy to sell rings?" After all, diamond engagement rings became part of our culture when the diamond company De Beers instilled in us that "A Diamond is Forever."
Godfred doesn't mind the criticism.
"At the end of the day, our goal is to spread the mission of self love," she said.
"We're happy this conversation is happening even if it's not always taken in a positive light. I still think it's spreading the message and that, for us, is absolutely the most important thing."
She also points out that she and her business partner are not jewelers by trade. In fact, down the road, they may even sell something entirely different to remind women of their relationship with themselves.
As for Doyle and Chambers, as much as they love their pinky rings, both admitted they wouldn't shy away from posting their engagement rings online when that moment comes.
"I believe both rings go hand in hand," 23-year-old Chambers said. "Both should be celebrated."
According to mythology, she added, the Greeks believed we were born as a whole but were then ripped apart into two, leaving us to search for our other halves (i.e. our "soul mates").
"I think for you to find your other half," she said, "you need to find yourself first."
For complete article, visit Global News