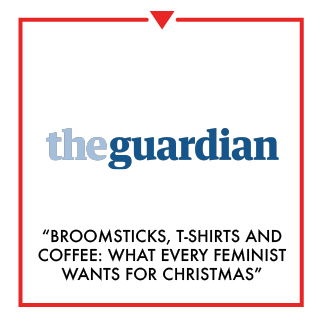 Here's the problem with feminism: it makes the holidays very hard. Particularly when it comes to gift-giving. Of course, most women are content with something pink and expensive under the Christmas tree. But what about those feminists who demand presents that don't prop up the patriarchy, gifts that don't give in to gender stereotypes, trinkets that don't trade in transmisogyny and objects that don't objectify? It's a minefield, basically – and one you should tread carefully. Everyone knows feminists don't have a sense of humour.
Thankfully, there are already numerous gift guides tailored to the feminist in your life – you know, as opposed to all those other women who are not interested in equal-gifting rights. According to these guides, feminist-friendly presents include a Uterus Plush Figure ("an informative tag describes the wonders of the womb"); a $155 (£122) Vagina Charm Necklace; a body-positive iPhone case; and period pants.
These are all bloody good suggestions, don't get me wrong. Sometimes, however, a feminist just has more vagina charm necklaces than she knows what to do with. So I've helpfully put together a few more ideas to help you close the gift gap this December.
4. A pinky ring
If you like feminism, you should put a ring on it. More specifically, you should put a pinky ring on it. Fred+Far, an LA-based jewellery company, offers a "self-love pinky ring" billed as an anti-engagement ring. "Woman," the website says, "reclaim yourself … choose power, choose fulfilment, choose choice … choose yourself." If you think this sounds like some grade A bullshit rather than Serious Feminism™, I'd caution you not to be so cynical and have a little feminist faith. Buy a $325 (£256) pinky ring and equal rights will undoubtedly follow.
Click here to read the full article!